Reg Number: 6059984
2020 Sorrel AQHA Stallion
Owned By: War Ranch
Return to Previous Page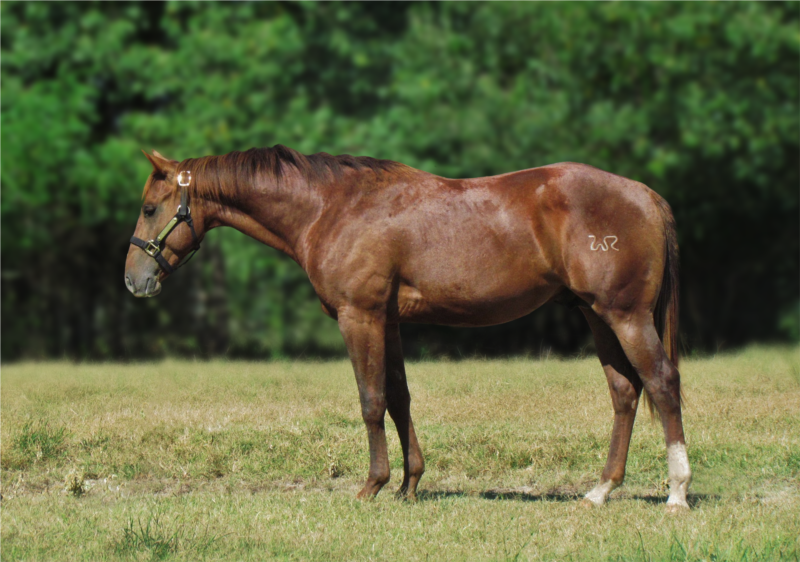 2020 colt by Rollz Royce (LTE: $348,383) out of War Shes Metallic, an own daughter of Metallic Cat (LTE: $574,494.40) out of a NCHA money earning daughter of Docs Stylish Oak
Metallic Rollz is a 2020 stallion by Rollz Royce (LTE: $348,383) out of War Shes Metallic, an own daughter of Metallic Cat (LTE: $574,494.40) out of a NCHA money earning daughter of Docs Stylish Oak.

Rollz Royce is a Hall of Fame inductee with an incrediable NCHA performance career and is an own son of Dual Smart Rey (LTE: $257,552.51) The Memphis Futurity OP Champion, who ranks in Equi-Stat's Top 5 All Time Leading Cutting Sires with offspring earnings in excess of $30,000,000, including producers with get earnings in excess of $16,000,000.

War Shes Metallic is an own daughter of Metallic Cat (LTE: $574,494.40) the highest money earner of all High Brow Cat offspring, and the highest money-earning aged event stallion in a 32 year history. Metallic Cat was top horse all ages all divisions. Metallic Cat (High Brow Cat x Chers Shadow x Peptoboonsmal) is the 18th stallion to achieve NRCHA Million Dollar Sire status, closing in on $19 million in NCHA money-earners. She is out of The Stylish One (LTE: $22,000.16) by Docs Sylish Oak (LTE: $65,978.69) out of NCHA money earner Miss Sweet and Low.
Located in Clarksville, TX
For More information, please call 903-715-7107
Offered For Sale: Contact for Price
Request Information!
ROLLZ ROYCE




LTE: $348,382.60

---

DUAL SMART REY




LTE: $257,552.51

---

DUAL REY




LTE: $105,038.29

---

THE SMART LOOK




LTE: $48,723.13

---

SHOW BIZ KITTY

---

HIGH BROW CAT




LTE: $110,102.14

---

SHOW BIZ SANDY




LTE: $81,221.70

---

WAR SHES METALLIC

---

METALLIC CAT




LTE: $574,494.40

---

HIGH BROW CAT




LTE: $110,102.14

---

CHERS SHADOW




LTE: $1,675.00

---

THE STYLISH ONE




LTE: $22,000.16

---

DOCS STYLISH OAK




LTE: $65,978.69

---

MISS SWEET AND LOW




LTE: $8,129.84

---